Technology rules the world today. You use various tech gadgets in your every move and that is simply how society works now. Along with its progress is the rise of online shopping. Why exert more effort into going to malls and spending hours of your precious time trying on clothes or shoes when you can simply purchase one with the click of a button. You no longer also have to make do with whatever options there are in the store when you can hop from one online shop to another regardless of the store's physical location and have more options. You can even have your items shipped to your home even free of shipping and handling fees for a minimum purchase.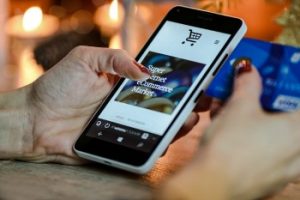 By shopping online, you save from the extra expense of gas or transportation and all the consequential expenses a trip to the mall includes like food or snacks, impulse spending, etc. All these are made possible with the rise of the Internet. It's probably the sheer convenience of online shopping that makes it such a hit with virtually everyone who has access to the web. Also, you don't always even have to own a credit card to be able to make online purchases as some can be paid cash on delivery.
In fact, not only is Amazon's search engine considered to be a "powerful rival" to Google, the online shopping site is beating Google to become the first stop for online shoppers, Statista noted.

Statista, citing a UPS survey of more than 5,000 people who shop online, noted that Amazon is the first choice of destination by a notable margin: 29 percent. Search engines, including Google's, ranks second at 15 percent, followed by a retail store at 13 percent and the retailer's website at 12 percent.

Other online marketplaces rank at 9 percent and perhaps surprisingly, a retailer's app ranks last at just 4 percent.

"In their quest for efficiency, serious shoppers want to find the most information on the greatest number of products in the least amount of time," the UPS report stated. "Marketplaces in general have positioned themselves as the first stop for heavy shoppers, who are doing more shopping online."
(Via: https://www.benzinga.com/general/psychology/17/07/9795403/amazon-is-the-google-of-shopping-a-third-of-americans-first-look-on)
Online shopping often offers the best prices on various commodities since the products are often sold directly by its manufacturers or the brands itself. You can also take advantage of rebates and discount coupons that can reduce the price significantly. And did I mention choices already? The choices are almost endless since you can choose from various brands all in one place like Amazon, for instance.
Amazon has launched a new online store aimed at providing shoppers with everything they didn't even know they wanted yet.

The retail giant's new Shop The Future store brings together advanced analytics and future-gazing predictions to bring together the next must-have products in one handy online portal.

Covering areas from home electronics to beauty and soft furnishings, the new store will offer an easy way to browse and get your hands on the next big thing. 

"At Amazon.co.uk, we already offer over 250 million products that our customers want now and which they might want in the future, from household goods and fashion to technology, the latest music and entertainment and food and drink," said Jamie Heywood, director, electronics, Amazon.co.uk. 
(Via: http://www.itproportal.com/news/this-is-amazons-view-of-the-future-of-online-shopping/)
Tools like these ones offered by Amazon enable consumers to make price comparisons even more easily. It is likewise even more appealing for individuals who hate crowds and don't want to rush through when making purchases not to mention the traffic you have to deal with when leaving the house alongside parking issues.
And to top it off, one of the best reasons you got to love online shopping is for when you are making a discreet purchase like that of a sex toy or sexy lingerie. Imagine the comfort and convenience of shopping for one without constantly avoiding the questioning gaze of shop assistants or feeling embarrassed to be caught red-handed in buying such taboo items. I am sure by now you yourself prefer to shop online too although you can't still completely do away with conventional shopping.
The Growing Popularity Of Online Shopping Find more on: Unabashedly Prep Blog
Source: https://www.unabashedlyprep.com/site/entry/the-growing-popularity-of-online-shopping/