Many changes are taking place in the world today. Society is changing, so are the needs and wants of the public. People are now obsessed with all things tech-related and you can't blame them when the market is full of technological innovations. At times, though, not everyone can keep up with all these changes and they end up becoming irrelevant in our global world. In the world of sports, even long-time staples are having a hard time coping with many of these changes because the usual tricks of the trade no longer apply.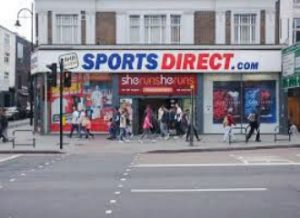 A big sports retailer like Sports Direct is not exempted from these challenges and they even introduce novel concepts like incorporating gym facilities in their stores to attract consumers. The company is embracing the many changes in the world of sports today and is undergoing a major transformation to stay competitive and relevant in a globally-competitive market. No longer will they be for the masses but more of a store that offers a wide-array of premium products that also focuses on trendy athletic fashion aside from sporting equipment.
"It's clear we have smashed the ball out of the park with our 'Selfridges' of sport concept," boasted Sports Direct chief executive Mike Ashley to financial analysts, following the release of the company's latest results.

He was talking about the retailer's efforts to drive its stores upmarket and "elevate its retail proposition".

The idea is to give more space over to branded goods and showcase their "very best products", even opening gyms in some of the flagship stores.

And on Thursday it announced a "strategic partnership" with upmarket Japanese sportswear brand Asics, whose products will be stocked in Asics-managed areas of flagship stores from next year.

Sports Direct described this as "an important step in Sports Direct's journey to being recognised as the Selfridges of sport.'"
(Via: http://www.bbc.com/news/business-40666992)
Sport is a tight niche. Competition is tough as the public often goes after more popular brands like Nike, Adidas, and Under Armour among others. Today, Sports Direct is giving ample space in their stores for these premium sports brands alongside other equally great labels so that consumers will even consider going inside the store.
Sports Direct had to issue a profit warning last October after a bet designed to protect itself against a slump in sterling went wrong, causing it to lose £15m in the currency markets during an overnight "flash crash" in the value of sterling in the east Asia.

Ashley told City analysts that he was now expecting a better UK performance at Sports Directs partly because the company had "smashed the ball out of the park" with its investment in more up-market flagship stores. The latest development is a new strategic partnership with Japanese footwear brand Asics, which will take space in Sports Direct's flagship stores.

The company is also beginning to take action after being hit by a scandal over its treatment of workers after a Guardian investigation. MPs described conditions at the group's Shirebrook warehouse as like a "Victorian workhouse".
(Via: https://www.theguardian.com/business/2017/jul/20/sports-direct-weak-pound-profits-mike-ashley)
The market has been especially tough for sports empire, Sports Direct, as the company lost roughly 60% of its profits as of April. Not only is the fall because of the retailer's poor performance but as well as the current state of the market these days where most global markets have also crashed or barely surviving and the pound is weaker than ever. However, these dire conditions aren't stopping Sports Direct from opening new stores to help them realize their goals of becoming a premium shopping destination for sports apparel and equipment. Perhaps reinventing itself is a great way for the company to survive these difficult times and change the perception of the public about the brand selling cheap or bargain stuff for the longest time.
The following blog article Sports Direct's Dream Of Becoming "The Selfridges Of Sport" was first seen on The UP Blog
Source: https://www.unabashedlyprep.com/site/entry/sports-directs-dream-of-becoming-the-selfridges-of-sport/